Lisa Marshall
( www.247lowcarbdiner.blogspot.com and http://www.247lowcarbdiner.com)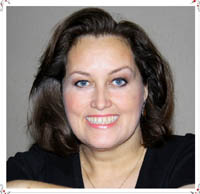 If anyone had told me years ago that I would be authoring cookbooks, I would have thought they were crazy. All I ever wanted to do was take care of my family's health. I am always on a budget, so years ago I developed a meal planning strategy that kept my kitchen stocked with delicious home cooking for my husband and three growing boys. Three meals a day, seven days a week—that's a big job! At the time, I called my kitchen Mom's Diner, because the kitchen was always open 24/7 and was filled with the comfortable diner style favorites that we loved. Nothing too fancy, no foodie snobs here! I combined large batch cooking, freezer stocking and once a month cooking strategies into a system that allowed me to get a great head start on 24 meals in just a 7-step prep day on the weekend. My Diner system freed me from daily kitchen drudgery, kept us out of the fast food lines and saved tons of money.
When my husband John developed diabetes, I adapted the shortcuts I already used to low-carb cooking. Now the system was even more valuable. Convinced that diabetes can be controlled with a low-carb diet, the planning proved to be the key to success in keeping John's blood sugar in the normal range. He has stayed off medication for five years now. Having casseroles in the freezer, meal starters already prepped, and easy-to-fix meals planned on the menu is a lifesaver for us. With a year of success, I grew tired of hearing that it was just too hard to eat low- carb; that diabetics could not stay away from carbs in a world of gluten-filled bread, pasta and cakes. We were doing it and not feeling deprived at all. We had variety and nutrition. To spread the news, I decided to write an e-book of my Diner system called the 24/7 Low Carb Diner. It shares my menu planning secrets, cooking methods and favorite recipes.
The system works! To prove how a family actually can eat low-carb 24/7, I started the Diner Blog and a monthly newsletter. There, I share what we are eating and new recipes I have created or discovered. I have made many low-carb friends, and several are in this book. My recipes are always family friendly, fun and easy to put together. Whether you eat low-carb to lose weight or maintain health, my planning system can help you stay on the low-carb wagon. The dishes in this book are stand-alone recipes for anyone to enjoy. You can use them with or without the Diner system. They are delicious comfort foods just like you would order again and again in your favorite roadside Diner. Enjoy!