Maria Emmerich
( www.mariahealth.blogspot.com and www.marianutrition.com )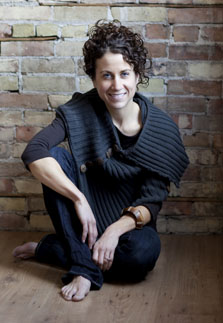 I first want to say that I am honored to be a part of such a passionate group of writers. With that said, I am a nutritionist who also specializes in exercise physiology. I share a passion for helping others reach their goals of optimal health because I myself struggled with my weight throughout childhood and decided enough was enough. I decided to study health and wellness so I could help others stop wasting their time being discouraged with their outward appearance and not feeling their best mentally. People underestimate the connection between food and how it makes us all feel on the inside and out.
When I first started helping clients get healthy, I was frustrated by limiting them to so few options for food. I needed my clients to decrease their carbohydrate intake, but many of them would fail because they couldn't control the desire for sugar and starch. This is where my own passion for food came in handy. I love to cook and bake, so I decided to play around in the kitchen with alternative flours like coconut flour and almond flour. I researched alternative sweeteners and found some that even have health benefits!
I have also written 3 books:
1. Secrets to a Healthy Metabolism
2. Secrets to Controlling Your Weight, Cravings and Mood
3. Nutritious and Delicious
All of which are available on www.amazon.com. My husband started the adoption process in 2008 and a few months later, he lost his job. We were devastated at the death of our dream to bring children into our home. With Craig's encouragement and help, I sat down and started writing. All of my book sales go towards our adoption of Kai and Micah.
Some of my specific ingredients are hard to find (or really expensive in grocery stores). I created an online 'store' where you can find these ingredients at the best prices I have found. For easy online shopping go to:
http://astore.amazon.com/marisnutran05-20
I had one client tell me, "Going on a gluten-free/sugar-free diet was very daunting at first. If someone told me, 'You need to go gluten-free and sugar-free' (in order to get pregnant) and sent me on my way, I would have been completely lost. Your cookbook made it so easy to do! I've even noticed a difference in my son. We no longer have 'meltdowns!' His daily report from daycare has been awesome. It's been great for our family and even my husband enjoys the food. I find that I spend a lot more time in the kitchen, but I feel really good knowing I'm making healthy food for my family." It is testimonies like this that fuels my passion for creating recipes.