Andreas Eenfeldt, M.D.
"It's time for this food revolution to spread across the world."
( www.DietDoctor.com )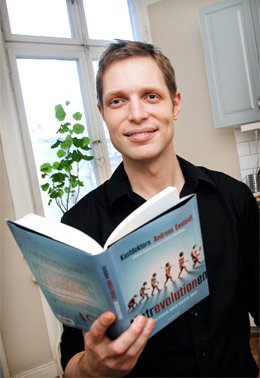 It's time for a food revolution. We can eat good, real food (meat, fish, vegetables, real butter) with no need to count calories. As long as we avoid pure sugar or refined starch this tends to improve not only our weight but, more importantly, our health. I see it happening all the time for my obese and diabetic patients. By eating real food, with no hunger, they can improve their weight, decrease their medications and revolutionize their health. Dr. Eenfeldt (M.D.) is a specialist in family medicine and author of the bestselling book "The Food Revolution" available in Swedish, Norwegian and Finnish. He has the biggest Health Blog in Scandinavia with 20,000 daily visits and blogs in English. Inside of "Low-Carbing Among Friends", Dr. Eenfeldt has more wonderful advice to give you in his foreword, preceding Jennifer Eloff's recipe section, about how to become part of this healthy food revolution. His youth and passion indicate that he is going to be a long-running actor on the low-carb stage, and an award winning one at that! He is well positioned to do for Europe what Dr. Atkins did for the USA, but thanks to his impeccable English, we all will benefit. We are happy to have him as part of this international team!